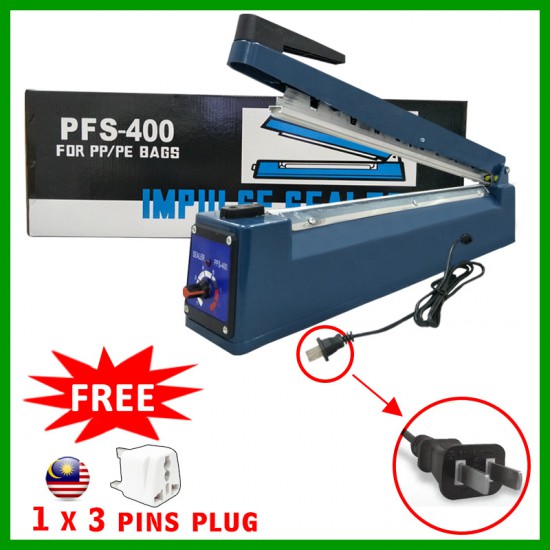 We advise the customer to check the shipment status more frequently, and please be reminded that, in some situation, you may need to collect personally at the respective courier company office. If you do not receive your order within 5 working days, Kindly contact us IMMEDIATELY for further assistance to avoid the parcel return to us. Rest assured that we are glad to assist follow up till the item successfully delivered. What if the order is being Return to Sender? Please check the "Delivery" column at the bottom of the page.
Warranty Terms & Conditions
Lightweight Hand Type Impulse Sealer (PFS-400)
Product Name: Lightweight Hand Type Impulse Sealer

Model: PFS-400
Colour: Blue
Plug: CHINA 2 pins plug
Dimension: 53cm x 8cm x 14.5cm
Max. Sealing Length: 44cm
Temperature: 8 different of temperature to adjust
Power Supply: 220V, 50/60HZ
This sealing machine is suitable for sealing various plastic films. It can be widely used in food, candy, medicine, native products, chemical, electrical components and other departments. It is a convenient and economical sealing device for factories, shops and service industries.
1. This sealing machine should be handled with care to avoid falling at high altitude to avoid damage.
2. The heating wire is flat and can only use to seal the bags but cannot use to cut the bag.
3. Do not use the sealing machine when thunderstorms or in humid environments.
4. Always keep the sealing surface clean, avoid residues on the sealing surface because it can reduce the life of the heating wire and heat-resistant cloth.
5. Do not wipe the sealing surface with a damp cloth.
6. Can only clean the outer covering of the sealing machine. It is strictly forbidden to put the sealing machine into the water for cleaning.
Insert the power cord into a power socket, adjust the temperature (1 to 8) according to the thickness of the bag. It is recommended to gradually increase the high temperature from the low temperature.

Adjust the temperature until it can seal the bag. You do not need to seal the bag with high temperature at the beginning.

Please use low temperature to seal bags with thinner materials. It can extend the service life of a sealing machine.

Generally, use high temperature to seal bags with thicker materials. The higher the temperature, the service life of the sealing machine and the heating wire will be shortened.  Then, place the plastic bag on the sealing surface.

Next, press the handle down, the circuit will automatically control the heating time and the indicator light is on.

When the indicator light is off, the power is automatically disconnected.

The sealing machine will not heat when the power is off.

Finally, wait about 1-2 seconds, release the handle and the indicator light will be off. The bag is sealed.
Stock:

In Stock

Reward Points:

69

Model:

SMHP400

Weight:

2.80kg

Evio Asia
Price in reward points: 6900