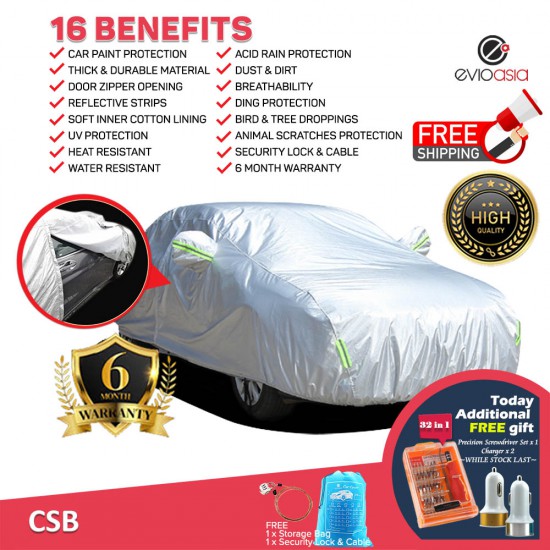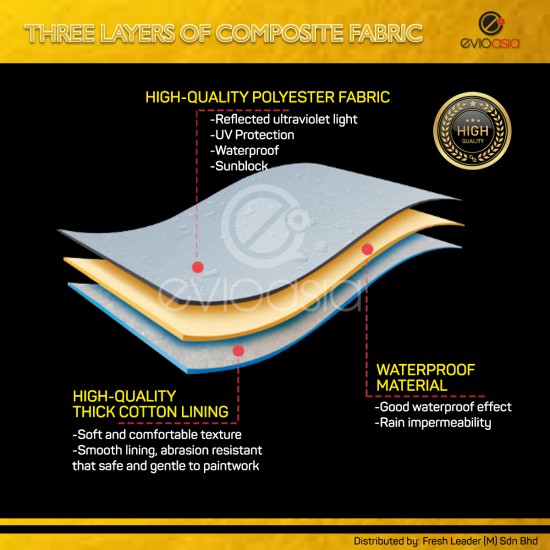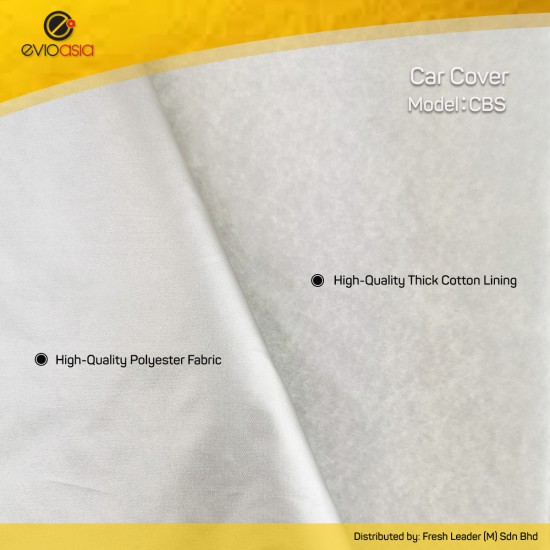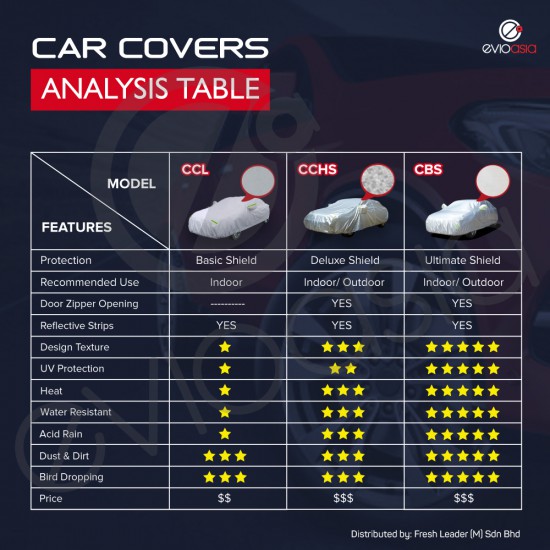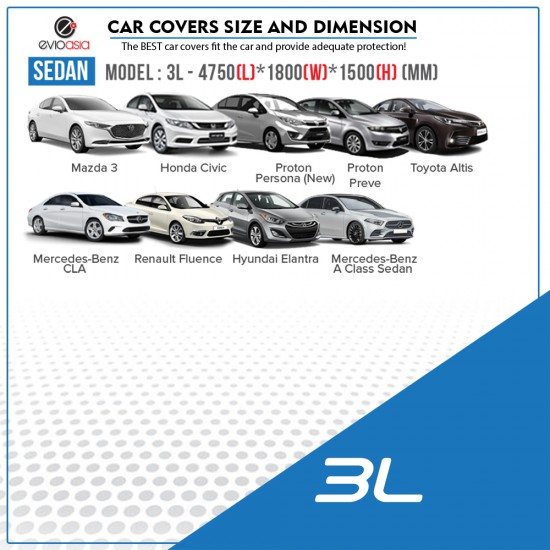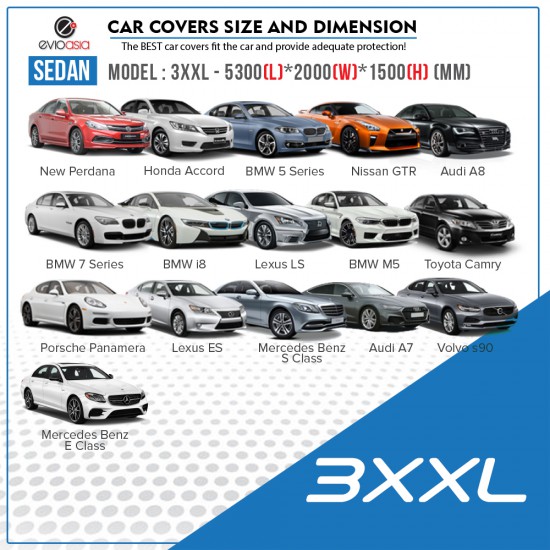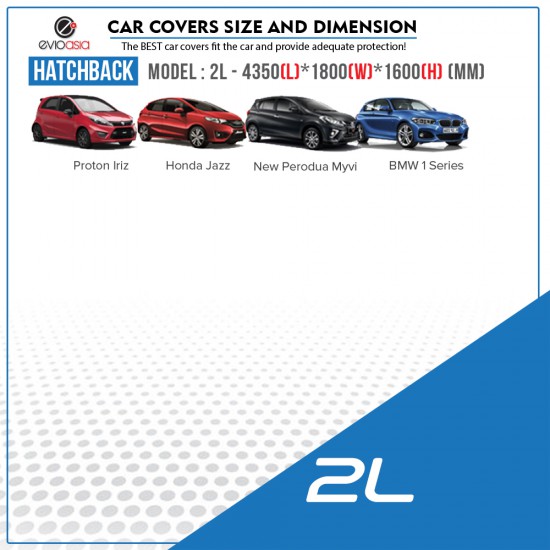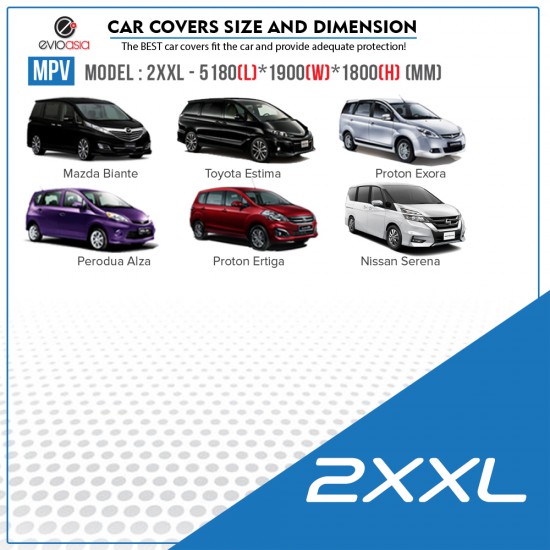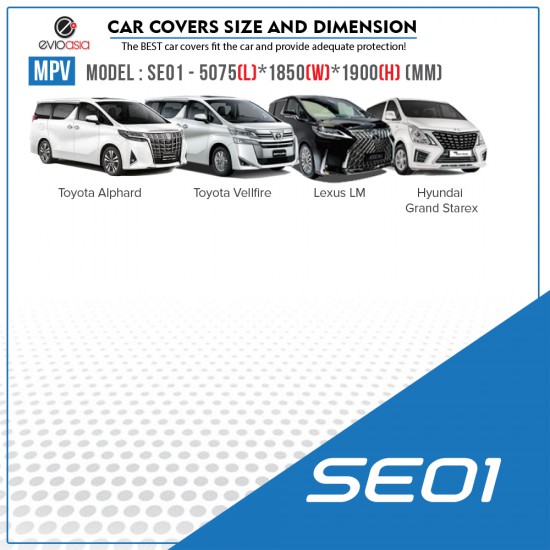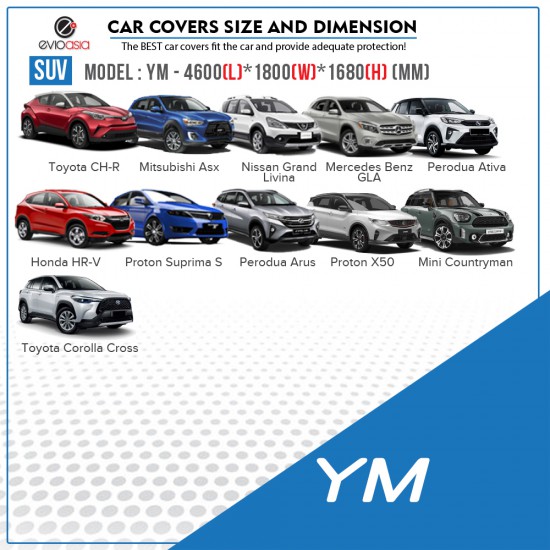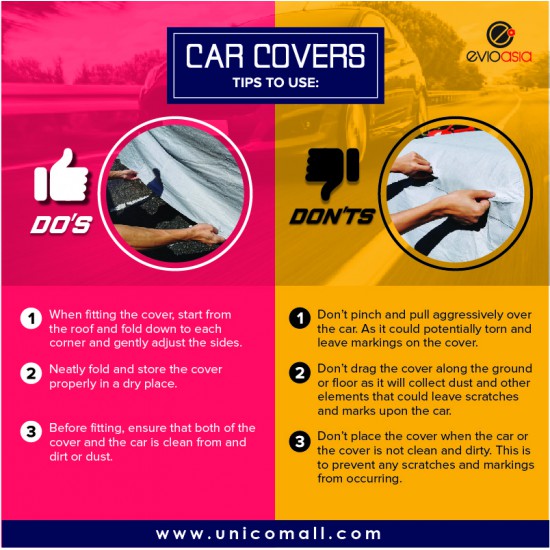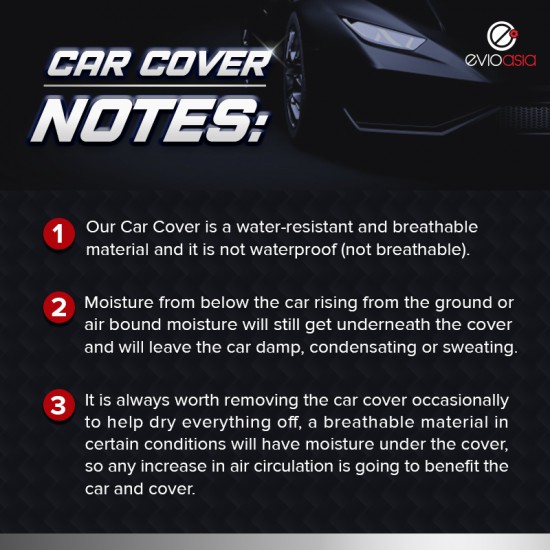 We advise the customer to check the shipment status more frequently, and please be reminded that, in some situation, you may need to collect personally at the respective courier company office. If you do not receive your order within 5 working days, Kindly contact us IMMEDIATELY for further assistance to avoid the parcel return to us. Rest assured that we are glad to assist follow up till the item successfully delivered. What if the order is being Return to Sender? Please check the "Delivery" column at the bottom of the page.
Warranty Terms & Conditions
Evio Asia Premium Full Reflective Car Cover With Zipper Door Design Anti-UV Heat Rain Dust Protection + WARRANTY -Model CBS
**SEPTEMBER 2021 PROMO! FREE GIFT + FREE POSTAGE UNTIL 13/9/2021**
[NEW MODEL] High-Quality Car Cover With Zipper Door Design Anti-UV, Heat, Water, Dust Resistant Protection + WARRANTY (Model CBS)

**6 MONTHS WARRANTY (Terms & Conditions apply)**

Specifications
-High-Quality Polyester Car Cover Anti-UV, Heat, Water and Dust Resistant Vehicle Protection Cover Silver suitable for cars
-Side door design for easy access to the car without removing the cover
-Strong & durable material with soft cotton lining
-Top-stitching with double-needle and water-resistant effect.
-Protection against UV, heat, rain, snow, dirt, dust, bird drops, scratches from cat, etc.
-Easy to use and storage.
-Universal type, suitable for common car.
-Item size: 3M, 3L, 3XL, 3XXL, 2S, 2L, 2XXL, YM, YL, YXL, SE01 (please refer the size guide)
Features
-Car covers prevent minor damage and stop scratches from potentially occurring and this alone saves a homeowner thousands of dollars.
-A car cover is like a piece of clothing for a car. It keeps it safe from being exposed to the elements. Furthermore, the cover keeps the car clean when it is in storage for a long period of time.
-Non-absorbing solar reflective layer.
-Keeps your interior cool on sunny days & avoids sun damage.
-Super large size, full protection.
-Includes tie down straps.
-Give extra added security against high winds
Material
- Made on non-abrasive and mildew resistant, water repellent and lightweight.
- Made with water-resistant material.
- Made of high-quality Polyester with cotton lining.
Quality
-Made of durable high-quality polyester material with cotton lining inside.
-The lining is very smooth, abrasion resistant that safe and gentle to paintwork.
Convenient & Humanization Design.
-Zippered side door for easy access into the car without removing the cover.
-Reflective strip on mirrors and car corners.
-Reflective strips let people see your car easily at night to make it safer when parking off-street.
NOTICE: Please check your car measurement and compare it with our Car Cover size guide and dimensions. Please allow +/- 5cm-10cm difference due to manual measurement.
3XL
-Audi (A4 A5), BMW(3 Series 4 Series), BMW( M2 M3 M4), Honda Type R, Lexus IS, Lexus GS, Mazda 6, Mercedes Benz C Class, Mercedes Benz SL, Mitsubishi Evo X, Peugeot 408, Toyota (Avensis, Toyota Avensis Touring Sports, Prius,)Volkswagen Passat.
YXL
-Audi Q7 Q8,BMX (X4 X5 ,X6),Honda Odyssey ,Lexus RX ,Mazda CX-9,Mercedes Benz GLE Coupe Porsche Cayenne , Porsche Macan. Volvo XC90
YL
-Audi Q3,Audi Q5,BMW X1,BMW X2(2018),BMW X3,Chevrolet Captiva, Ford Escape S FWD, Kia Sportage, Lexus NX(2014&2018),Mazda CX-5,Mercedes Benz GLC Coupe Nissan X-tria , Honda CR-V, Peugeot 3008,Range Rover Evoque, Subaru Forester, Subaru XV 2018,Toyota Harrier, Fortuner , Land Cruiser, Prius+, RAV4 , Volkswagen Tiguan, X70
YM
- Honda HR-V , Honda Stream Rsz, Lexus CT 2014 &2018 ,Mazda CX-3,Mercedes GLA200 , Mitsubishi ASX 2017,Naza Citra,Nissan Leaf,Nissan Livina , Nissan Latio Hatchback,Proton Ertiga,Proton Suprima S,Honda BR-V ,Toyota C-HR,Honda Stream Rsz. Pronton X50, Perodua Ativa, Perodua Arus,
2S
-Perodua (Myvi,Axia),Toyota AYGO
2XXL
- Citroen Grand C4 Picasso 2016 ,Mazda Biante , Nissan(Serena, Serena C27), Proton(Ertiga ,Exora) Toyota ( Avanza ,Estima ,Hilux Vigo, Innova, Sienta , Unser ,Verso , Wish)
3M
- Ford Fiesta 2017 , Honda Insight 2012 , Nissan Almera , Perodua Bezza , Proton (Saga ,Waja ,Wira) Toyota Vios .
3L
-Honda Civic , Honda City, Hyundai( Avante ,Elantra ), Mazda(3,RX 8) , Mercedes Benz A-Class Mercedes Benz CLA , Mercedes Benz W123,Nissan Sylphy, Proton Persona ,Proton Preve, Renault Fluence , Subaru V10, Toyota Altis & Corona 1981 , Volkswagen Golf Estate.
2L
- Alfa Romeo 146 , BMW 1 Series , Honda Jazz, Hyundai(Veloster, Getz), Mazda 2 , Mercedes Benz A-Class (2016)Nissan (Juke ,Micra), Perodua Myvi (2017-2018) ,Proton(Iriz , Satria Neo), Toyota (Auris,GT(86), Yaris) , Volkswagen Golf.
3XXL
- Audi A6 A7 A8, BMW( 5 6 7 Series, i8, M5), Ford Mustang GT, Honda Accord, Kia K5 Optima, Lexus ES LS, Mercedes Benz (CLS Coupe 2018, E-Class, S-Class), Nissan GT-R, Peugeot 508, Proton New Perdana, Porsche Panamera, Toyota Camry .
SE01
- Toyota Vellfiew, Alphard, Lexus LM, Hyundai Starex
Stock:

In Stock

Model:

CBS

Weight:

10.00kg

Dimensions:

50.00cm x 20.00cm x 68.00cm

Evio Asia